IN-HOME TRAINING PROGRAMS
Our Trainer's Availability
Monday-Friday: 4pm or later
Sunday's: All day
$90 per session
Sessions will last around an hour long
*Our trainer will recommend the number of sessions needed to achieve the goals you have for your pup. Programs are always customized for each client and their specific needs.
*Group Classes coming soon!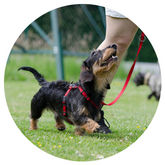 Beginner Training
Our obedience system is based on fun engagements that build focus. A great introductory class that teaches simple cues like sit, come and stay.

Behavior Modification
We use positive reinforcement to correct behavioral issues such as barking, digging, jumping up, biting, chewing and other dog and puppy problems.

House Breaking & Potty Training
Our professional trainers can train dogs to eliminate in litter trays, potty pads, or outdoors.

Puppy Training
Help your puppy to develop critical social and obedience skills, plus you can get all your important puppy questions answered!
What Our Customers Say
SIT Social: A Dog Lounge is Chicago's only 5-star rated, intimate, 700 square foot dog living room. We love all of our customers from Chicago and nearby areas including Ravenswood, Uptown, Edgewater, West Ridge, Lincolnwood, North Park, Albany Park, Lake View, Lincoln Park, Wrigleyville, North Center, Buena Park, Irving Park, and more.
Come visit our dog lounge in Chicago, IL for all of your dog needs including doggie birthdays & events, boarding, daycare, and training!